Available at the office too!
SEROTONE
Provides botanicals that exhibit/support serotonin activity, balance serotonin catabolism, and provide amino acids and cofactors required for serotonin production.

Servings:
Take 1-2 capsules, 3 times a day or as directed by your healthcare practitioner.

UNIT PRICE – $58.00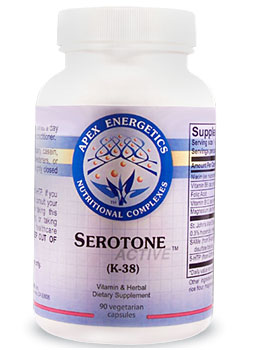 Supplement Facts
Serving Size: 1 Vegetarian Capsule
Servings per container: 90
Amount per serving DV%
Niacin (as niacinamide) 50 mg 250%
Vitamin B6 (as pyridoxal 5 phosphate) 10 mg 500%
Folic Acid 200 mcg 50%
Vitamin B12 (as methylcobalamin) 1000 mcg 16,667%
Magnesium (as magnesium citrate) 10 mg 2%
St. John's Wort Extract (standardized to contain 0.3% hypericin) (Hypericum perforatum) 200 mg *
SAMe (from S-adenosyl-L-methionine disulfate tosylate) 60 mg *
5-HTP (from Griffonia simplicifolia) 75 mg *
*Daily Value not established
Other ingredients:
Vegetable cellulose (vegetarian capsule), rice flour, magnesium stearate, silicon dioxide.
NUTRITIONAL COMPLEXES K-PLEX
This series of products is designed with the methodical scientific analysis of different ingredients and their effect on optimizing the endocrine system. Each product includes a combination of herbal and/or nutritional compounds that are well investigated for their effects on the endocrine system. Most of the products include cofactors of different enzymes that are involved in up or down-regulation of a number of biochemical pathways effective in the conversion processes of hormonal precursors. This ensures the successful completion of metabolic pathways for the synthesis of the targeted biochemical compound. Long-term practical experiences by outstanding clinicians and scientists have been utilized to design these products.
STORE IN A COOL, DRY PLACE. KEEP OUT OF REACH OF CHILDREN
* These statements have not been evaluated by the Food and Drug Administration. This product is not intended to diagnose, treat, cure or prevent any disease.
Disclaimer:
The images displayed may differ slightly from original images. Product descriptions, images and ingredients are believed to be accurate but may be changed at anytime by manufacturers. Please refer to the manufacturers website for the latest information