Available at the office too!
MCHC for Skeletal Support
• Comprehensive Bone Support for Adults Who Have or Are At Risk for Reduced Bone Density/Integrity
• Back Pain Management
• Support for Bone Density During Corticosteroid Treatment

Ossopan MD™ is an encapsulated comprehensive bone support formula. Microcrystalline hydroxyapatite concentrate (MCHC) contributes calcium, phosphorus, organic factors and protein matrix, bone-derived growth factors, and a full spectrum of trace minerals that naturally comprise healthy bone. Additional calcium and magnesium are in the form of highly absorbable, Albion®-patented, totally reacted, malate-containing chelates. Vitamin D is as cholecalciferol.

If you are a patient of Dr. Jim or Dr. Julia Trudeau you may inquire about XYMOGEN by calling (757) 436-6677.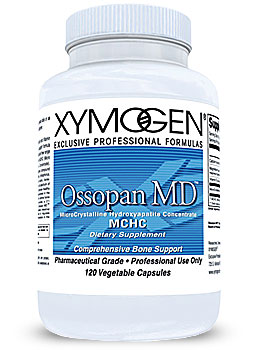 Serving Size: 4 Capsules (Vegetable Capsules)
Servings Per Container: 30
Supplement Facts:
• Calcium (from MCHC* and di calcium malate) 800 mg
• Magnesium (as di magnesium malate and magnesium glycinate) 400 mg
• Vitamin D (as cholecalciferol) 200 IU
• *MCHC: MicroCrystalline Hydroxyapatite Concentrate 2000 mg
Other Ingredients: HPMC (vegetable capsule), magnesium stearate, stearic acid.
Free Of: Wheat, gluten, corn protein, yeast, soy, dairy products, artificial colors, sweeteners or preservatives.
Directions: Take two capsules twice daily or as directed by your healthcare practitioner.
Dosing:
Ossopan MD™ may interfere with the gut absorption
of the antibiotic tetracycline. This interaction may be
overcome by separating the doses of the antibiotic and
the supplement by at least two hours.
Contraindications:
Use with caution in patients who are paralyzed or bedridden, those with a history of kidney or bladder stones. Avoid if hypercalcemia or
hypercalciuria is present. No harmful effects have been reported by taking the original Ossopan® during pregnancy or while breastfeeding;
however, the added vitamin D and magnesium should be considered. No side effects have been reported with the use of Ossopan®.
All XYMOGEN® Formulas Meet or Exceed cGMP Quality Standards.
Ossopan® has been documented in the clinical literature for its benefit in optimal bone health. This formula also provides a 2:1 calcium to magnesium ration.
Xymogen's Exclusive Professional Formulas are available through select licensed health care professionals. The internet display of XYMOGEN product pricing are strictly prohibited. GFChiro.com makes XYMOGEN formulas available only to patients of our clinic. If you are a patient of Dr. Jim or Dr. Julia Trudeau you may inquire about XYMOGEN by calling (757) 436-6677.

Disclaimer:
The images displayed may differ slightly from original images. Product descriptions, images and ingredients are believed to be accurate but may be changed at anytime by manufacturers. Please refer to the manufacturers website for the latest information