Available at the office too!
• Cardiovascular Support
• Osteo Support
This product contains NO yeast, wheat gluten, soy protein, milk/dairy, corn, sodium, sugar, starch, artificial coloring, preservatives or flavoring.

Magnesium Aspartate 2X capsules, as provided by Douglas Laboratories, deliver 200 mg of elemental magnesium and 99 mg of potassium in their bioavailable aspartate forms.
Aspartic acid is a natural amino acid which occurs widely as a constituent of food proteins. In the body, aspartic acid is involved in energy production as an intermediate in the Krebs cycle.*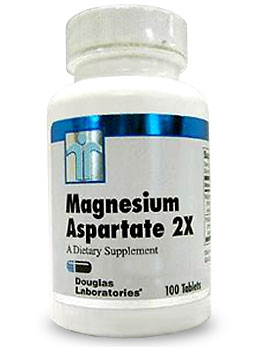 A Dietary Supplement
Supplement Facts
Serving Size: 1 tablet
Servings Per Container: 100
Amount Per Serving:
Magnesium 200 mg
(from Magnesium Aspartate Complex)
Potassium 99 mg
(from Potassium Aspartate Complex)
Other Ingredients: Cellulose, vegetable stearate and silica
Suggested Use: As a dietary supplement, adults take 1 tablet daily or as directed by your healthcare professional.
Magnesium plays an essential role in a wide range of fundamental cellular reactions.* More than 300 enzymes require magnesium as a cofactor. Complexed with adenosine triphosphate (ATP), the main carrier of metabolic energy in the body, magnesium is essential for all biosynthetic processes: glycolysis, formation of cyclic adenosine monophosphate (cAMP), energy-dependent membrane transport, transmission of genetic code for protein synthesis, and muscle function. Magnesium is also involved in maintaining normal heart function and blood pressure.*
Two thirds of the body's magnesium content is located in the skeleton. Recent scientific studies show that magnesium supplementation of ovariectomized animals, a model for postmenopausal women, not only promotes bone formation while increasing its dynamic strength, but also prevents bone resorption.* The aspartate salt used in Magnesium Aspartate is a highly absorbed and well tolerated form of magnesium.
Potassium is of great physiological importance as well, contributing to the transmission of nerve impulses, the control of skeletal muscle contractility, and to the healthy maintenance of already normal blood pressure. * Potassium is generally well absorbed from the gastrointestinal tract, and the kidneys regulate total body potassium by controlling urinary potassium excretion.*
KEEP OUT OF REACH OF CHILDREN. For optimal storage conditions store in a cool, dry place (59°-77° F/15°-25° C) (35-65% relative humidity). Tamper resistant package, do not use if outer seal is missing.

Disclaimer:
The images displayed may differ slightly from original images. Product descriptions, images and ingredients are believed to be accurate but may be changed at anytime by manufacturers. Please refer to the manufacturers website for the latest information