Available at the office too!
• Foundation Nutrition for a Variety of Protocols
• Basic "Insurance" Formula for Wellness
• Antioxidant Protection
• Detoxification Support
• Poor Dietary Nutrient Intake
• Stressful Lifestyle

ActivNutrients™ w/iron exclusive formula is now available here under our "Dr. Trudeau's Platinum Blend – Energy Multi" private label. Activ Nutrients™ is a high quality, hypoallergenic, balanced, proprietary multivitamin-mineral blend in easy-to-swallow vegetable capsules. Activated vitamin co-factors and patented Albion® chelated mineral complexes assure maximum absorption and utilization at the cellular level.

UNIT PRICE – $22.00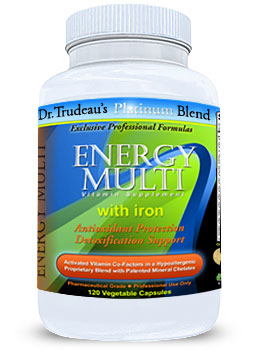 Vitamin A (as mixed carotenoids and cis-retinol palmitate)
Vitamin C (as potassium ascorbate, zinc ascorbate, calcium ascorbate and sodium ascorbate)
Calcium (as dicalcium malate)
Iron (as bis-glycinate chelate)
Vitamin D (D3, as cholecalciferol)
Vitamin E (as D-alpha tocopheryl succinate, mixed tocopherols)
Vitamin B1 (as thiamine mononitrate)
Vitamin B2 (as riboflavin 5′-phosphate)
Vitamin B3 (as niacinamide, niacin)
Vitamin B6 (as pyridoxal 5′-phosphate)
Folate (as folic acid, 5-formyl tetrahydrofolate)
Vitamin B12 (as methylcobalamin)
Biotin
Pantothenic Acid (as D-calcium pantothenate)
Iodine (as potassium iodide)
Magnesium (as dimagnesium malate)
Zinc (as bis-glycinate chelate)
Selenium (as selenium glycinate complex)
Copper (as copper bis-lysinate chelate)
Manganese (as manganese bis-glycinate chelate)
Chromium (as chromium nicotinate glycinate chelate)
Molybdenum (as molybdenum glycinate)
Potassium (as potassium glycinate and potassium ascorbate)
Inositol
Choline (as dihydrogen citrate)
PABA (Para Amino Benzoic Acid)
Vanadium (as vanadium niacinate glycinate)
Other Ingredients: HPMC (vegetable capsule), magnesium stearate.
Free of: Wheat, gluten, corn protein, yeast, dairy products, artificial colors, sweeteners or preservatives.
Caution: Pregnant women and those who may become pregnant should not exceed 5,000 IU of preformed vitamin A (retinyl palmitate or retinyl acetate) per day.
Note: Vitamin E may be derived from soybean oil.
STORE IN A COOL, DRY PLACE. KEEP OUT OF REACH OF CHILDREN
* These statements have not been evaluated by the Food and Drug Administration. This product is not intended to diagnose, treat, cure or prevent any disease.
Disclaimer:
The images displayed may differ slightly from original images. Product descriptions, images and ingredients are believed to be accurate but may be changed at anytime by manufacturers. Please refer to the manufacturers website for the latest information